good luck

Hello again!
Please excuse the format change as I am trying to nail down what works best for me. We are now 48hrs in and it's time for an update. If I thought My Precious, err Honey Dew was hard to come by before getting here Tier 6 Shooter Nodes are rarer than Vibranium it would seem…
The mood on the island is far more laid back, and I think the upcoming release of The Barren Lands may be to blame for this. Many of the Alliances are planning on leaving mid-island to join the Barren Lands is the current speculation. More on that to come later…
Here is the current state of affairs on the Island as I type:
---
I have slightly magnified the building paths to make them easier to see.
The current score (which matters very little right now):
---
|As we can see things are progressing as normal for 48hrs into an island run…
So, to further amuse myself, and we as we know that is the primary goal of life, I decided it would be great to reach out to all the Diplomats of each Alliance and ask if they would consent to an interview that would be posted here.
❀ƊƖƠƝƖƧƖƛ❀ the lovely Diplomat from (SOH) Soldiers of Hell on server 590 is our first victim err… subject that agreed to be interviewed for this visit to the island. Below is the transcript of our conversation. Please note* English is not their primary language, and I will not be altering their words, however I will interject with any follow-up questions and answers where I felt some clarification may have been needed.
Cat: "…tell me about yourself and alliance, past experiences with Island, things you like, don't like and any ideas you may have to improve the island. Things or rewards you hope to get or accomplish on this trip."
❀ƊƖƠƝƖƧƖƛ❀:
"We are an original alliance of 590, during our stay on the server, we have gone through many changes, due to the server migrations that were before. Thanks to that, this alliance has started with members of 3 different alliances coming from 590 originals. We have received different players and a lot of experience thanks to events like the islands.
For example, at the beginning we accepted players we thought were trustworthy and we only got rebellion and betrayal, for not doing what a few found right. Now for each crossover, we try to get as much information as possible from the players to avoid internal conflicts within the island. Also clarifying that they must always obey what the R4 decide.
For my part, I have been actively sending messages and creating a discord server, so that all decisions can be democratic, thus being able to take the opinions of the majority of the players, depending on their time zone and preferences. This is how we managed to schedule towers and attacks and organize diplomacy inside and outside the island."
"Currently we have members from all continents so we must organize ourselves for different schedules. Our R4s were also decided by trust, commitment and diplomatic activity. It is important for us to build trust within the alliance so that everyone can feel comfortable."
"Some details that we discussed about the island, it's about the option to eliminate some alliance member during the event, then the week when we have to kill the mudskip (Mudskipper), it makes it difficult for us to manage the resistance for all the members, due to the time zone, so It would be ideal if the Mudskip (Mudskipper) event did not require troop resistance, so it could be more friendly during the start of the island."
Cat: "By "Troop Resistance" do you mean stamina? I know the translations can be weird at times so just want to clarify."
❀ƊƖƠƝƖƧƖƛ❀:
Cat: "Also what were the original 3 alliances from 590 that were combined into SOH?"
❀ƊƖƠƝƖƧƖƛ❀:
"Was LAN, VIP AND HOT. As for me, I like to play as a team, every action we take must be considered by everyone, that's why I like to be diplomatic, because I like to constantly talk to the players. But I'm also competitive but at my own pace, since I'm not p2w hahaha but I always try to increase my stats. My goal now is to test the new strategy that we are doing and bring it to the new BL environment, since I am very interested in how the gameplay will be."
Cat: "Ohhh my, I forgot one final important question… Pancakes or Waffles, which do you prefer?"
❀ƊƖƠƝƖƧƖƛ❀:
"Pancakes with ice cream pleaceeee"
Cat: "See, I knew you were a person of obvious class and taste!"
As you can see SOH has an absolute treat for their Diplomat!!! It will be fun playing with them this island trip no matter how short their trip may turn out! Thank you once again to ❀ƊƖƠƝƖƧƖƛ❀ for agreeing to the interview!
---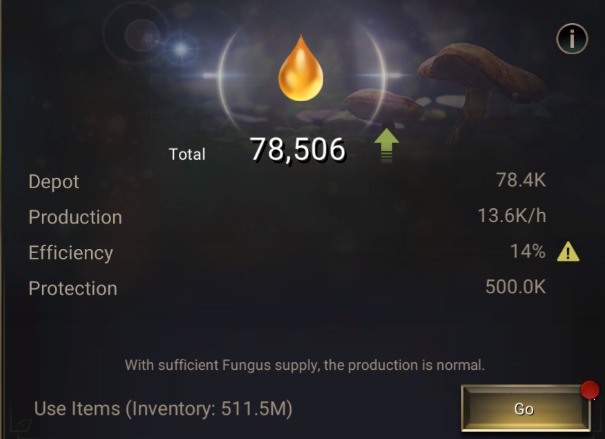 Now I am certain everyone is curious where my Honey Dew level sits for now. Well, I managed to scrounge up enough fights over the last invasion to accumulate almost an extra 100 million! It's still very precious though, my precious…
I am sure that I am now back on island we can start hoarding some more until the clash zones open at least.
Need to grasp that Golden Ring of an R1 status without getting promoted to R4 again!
Still Dew need lots more ASAP… my precious…
Need to set rallies on next fortress from the Alliance Block and see how long it takes for people to notice!
In a few days… or if something extraordinary happens
Hello Fellow Vacationers,
Many many happenings have errr… happened on the Island since last we chatted. First and foremost, the Milestones, the first set of tunnels have opened. Pink (TVK #566) has agreed to a peaceful sharing of Area 51 with us Blue (MAG #697). Orange (SOH #590) has predictably invaded their empty neighboring zone of Teal and secured that Wonder. Purple (PRO #636) has invaded their empty neighbors in Yellow, but in an interesting move they were invaded by Green (BOS #618) and also invaded their territory as well. Meanwhile Brown has quickly conquered their whole territory and I am sure are eagerly awaiting the Clash Zones to open. Everyone except for Orange and Purple are out of worthwhile nodes so I imagine the Shenanigans will promptly commence!
Here are the current Island Scores:
Now onto our Interview for the week. The fearless leader of TLL League of Legends who calls server #603 home Tekitolalife . I tried to get their lovely diplomat, but no luck this time so here is some eye candy for the ladies:
Cat: "…tell me about yourself and alliance, past experiences with Island, things you like, don't like and any ideas you may have to improve the island. Things or rewards you hope to get or accomplish on this trip." *
Tekitolalife:
"I'm Tekitolalife R5 of TLL this will be our 4th island 2nd as team. We are a group of people who love achieve objectives working together, we love fight, with only 78 members we have 52 billion kills, in island my Target as group is be busy until last day with goals, have chance to win everything, always complete all achievements as alliance 3 wonders (the hardest one). "
Cat: "Are you looking forward to the new Barren Lands event?" *
Tekitolalife:
"Yes! In fact, probably we will leave island asap we can vote, to join the new event."
Cat: "I think many will be doing the same. Here is a very, very important question for you… Do you prefer Pancakes or Waffles?" *
Tekitolalife:
"This is the one, hmmm depends. If they are Belgium waffles, waffles​:joy:


"
Cat: "I think you misspelled Pancakes there, probably just a translation thingy…"*
Tekitolalife:
But homemade pancakes. maybe my Spanish


But question for you, did you try Belgium waffles?


Cat: "I have and meh… nothing compared to Japanese Pancakes, I can assure you! Well, thank you for strong textyour time it is greatly appreciated!" *
Well, I just have no idea what to do with someone who could be so wishy washy on something as dire as their true allegiance in the Great Pancake War of 2023…. I may have to keep my eye on them….
Everyone's favorite Stamina sponge is here too! The Clod Hoppers (Mud Skippers) have come and are the absolute speed bump they have always been. A reduction in stamina costs is on everyone's wish list right now. As a dedicated member of the R1 mafia I insist on doing all 15 attacks, but as rallies from Narnia much to the delight of my alliance members!
What's a 15-minute rally march between friends after all? I have also started to recruit new cells of the R1 Mafia from members of the other alliances on Island vacation with the following recruitment pitch!
Cat: "Do you enjoy attacking geckos while the rest of your alliance is attacking a gate or a Wonder? Do you enjoy teleporting on top of the next marker to make sure you're first to the next tower? Do you find it necessary to ask when the next lair will be attacked even though its marked and 3 messages have been sent out in all 12 languages the members of your alliance speak? The R1 Mafia may be for you!" *
So far no takers, but I am tenacious if nothing else!
Lastly, is my precious errr the Honey Dew… update. I am slowly building up my stock thanks to those lovely Hornets!!! Still only sitting on a third of what I would like to have for a minimum but barring any truly heinous fighting I should be golden. It seems like nodes will become more precious My Precious than My Precious… Great I know have two things to covet… My Preciouseseses I guess!
Successfully establish the R1 Mafia in all visiting alliances
Recruit many members to said new chapters of the R1 Mafia
Need more high level nodeses meh precious…
Need more Honey Dews meh preciouseses
Next Friday hopefully as I will be traveling for work.
Finally, an increase in honeydew

Love your humour

Greetings once again fellow vacationers, I am back after a slightly prolonged business trip to Milwaukee of all places! No, there was not an abundance of 'My Precious' errr… Honey Dew to be found there, however have you had the opportunity to try a good Brat and some Fried Cheese Curds? After this trip I may need to hit trails a bit to re-acquire my non-existent girlish figure…. Or not.
OK so let's see what has happened on the island since our last update…… Well, lots of movement in an already very unpredictable trip!
Hmm what could precipitate such odd migrations in my absence?
Ohhhhhh seems like we have an unusual amount of alliances escaping early to join the Barren Lands! This will definitely get interesting as one of those leaving (TLL)could be considered allies to my alliance (MAG). In fact, they helped us fend off then capture the Clash Zone Wonder this morning when both BOS and PRO initiated aggressive moves against MAG. PRO started burning our tower next wonder and BOS moved to build one to block. After a bit of tete-a-tete we were able to push BOS out of reach of Wonder, then capture Wonder from PRO.
Now with 3 alliances bailing on their vacation early MAG is left sandwiched between the 2 remaining alliances BOS who has already proven to be aggressive and TVK who are eerily quiet…. the only real questions that remains are will my ever-dwindling supply of my precious Honey Dew my precious last for the remaining 22 days, and can I convince these waffle loving aggressive pancake hating alliances we are left with on the island the benefits of peace and the superiority of Pancakes?
Currently I am out of Interviews for our neighbors, my guess they are obviously ashamed of giving us the answer to the Pancakes or Waffles question…. So next journal update I will start interviewing some of MAGs more notorious members….
Will I ever have enough of My Precious… Is it even possible to dream such a thing?
Will my fellow islanders come to their senses and foreswear the dry and tasteless path of Waffles and convert to the one true breakfast delight of Pancakes?
Will this trip to island start to make sense?