News Flash - A touching love story in The Ants: Underground Kingdom
Dear Rulers,
What does "The Ants: Underground Kingdom" mean to you? Is it a cure for boredom, a place to show your talent, or a social platform? Recently, we heard a touching love story about two players. They are from two different countries but are connected by our game. They have met each other in the game, fallen in love, and are now married. Mountains and seas cannot block love, and distance never separates two loving hearts.

The story happens in Server 221. The beautiful bride is a gorgeous Russian lady whose name is Виола, and the bridegroom is a handsome Australian gentleman called Alan. They accidentally migrated to the same Alliance, and their relationship becomes closer and closer during the battles they've been through together. The distance of 9,983 km and the time difference of 7 hours cannot stop them from being together.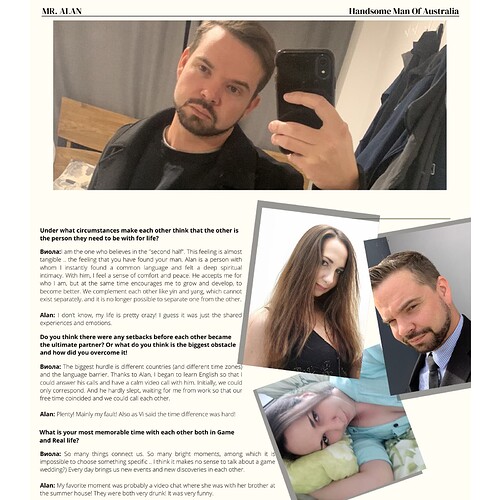 "The Ants: Underground Kingdom" is such a magical place, showing us that peace and love could actually exist in the game. We sincerely wish them the best of luck, and may their love be as sweet as honeydew and as eternal as diamonds!
Attachment: Interview with Виола and Alan
Can you give a brief introduction to yourself and each other? Like country, job, family?
Виола: My name is Violetta or Viola. My friends call me Vi. I'm from Russia. For the last 15 years I have been working in a large company selling electrical equipment throughout Russia. I like my job because it always teaches something new. In my free time, I like to read, take pictures, play TheAnts … Yes, a lot of things… Now I also learn English.
Alan: I'm Alan! And I'm a logistics broker in Australia. Outside of work I love a drink(so does Vi!) and I really enjoy running, wakeboarding and volleyball. In winter I basically just hibernate. Also may be mildly addicted to the ants game

Why did you choose to play The Ants?
Виола: I didn't mean to play it! I downloaded the game because I thought that I would look at the ant farm and how ants run in it and relax myself. It turned out that this was not the case. Respect to the promoters!
Alan: COVID lock-downs! I had not much to do sitting at home and just downloaded the game as it reminded me of one I had played when I was younger! But no it was completely different! Now I stay for the amazing relationships I've built while playing!
When did you start getting to know each other?
Виола:In Game! I was looking for a new server and met two players in SVS … Thanks to Baja and Stevo, I went to server 221 with a new account to understand if the guys and I should fly to this server. Alan was in the chat and said that it makes sense to fly. And then we began to get acquainted already in the alliance. I was surrounded by the attention of men, and he resisted … And once on Valentine's Day, he offered me to become his play wife … Suddenly… I played along with his joke. Then there were long conversations in viber correspondence with a gradual recognition of each other … That's how it all started.
Alan: When I first met Vi I didn't really know what she looked like but we just had great vibes and a lot of laughs. I would always joke with her about all the guys chasing her in the game and to make them jealous I jokingly asked her to "marry me" in the game. Then we got even closer and suddenly it became more than just a joke. Long video calls and drinking together made us a lot closer.
Under what circumstances make each other think that the other is the person they need to be with for life?
Виола:I am the one who believes in the ""second half"". This feeling is almost tangible … the feeling that you have found your man. Alan is a person with whom I instantly found a common language and felt a deep spiritual intimacy. With him, I feel a sense of comfort and peace. He accepts me for who I am, but at the same time encourages me to grow and develop, to become better. We complement each other like yin and yang, which cannot exist separately. and it is no longer possible to separate one from the other
Alan: I don't know, my life is pretty crazy! I guess it was just the shared experiences and emotions.
Do you think there were any setbacks before each other became the ultimate partner? Or what do you think is the biggest obstacle and how did you overcome it!
Виола:The biggest hurdle is different countries (and different time zones) and the language barrier. Thanks to Alan, I began to learn English so that I could answer his calls and have a calm video call with him. Initially, we could only correspond. And he hardly slept, waiting for me from work so that our free time coincided and we could call each other.
Alan: Plenty! Mainly my fault! Also as Vi said the time difference was hard!
What is your most memorable time with each other both in Game and Real life?
Виола:So many things connect us. So many bright moments, among which it is impossible to choose something specific … I think it makes no sense to talk about a game wedding?) Every day brings us new events and new discoveries in each other
Alan: My favorite moment was probably a video chat where she was with her brother at the summer house! They were both very drunk! It was very funny.
Have you told this to your alliance? If yes, how did your gaming friends in The Ants react when they heard your story?
Виола:Many players know our history. Someone laughs at us, there are enough haters everywhere, they think that all this is not real. Our friends are sincerely happy for us! They think we are a great couple

Alan: Of course! They're our friends! Some of them I talk with more regularly than people in my actual life due to being on the game everyday! Some people were fiercely against it - here's looking at you Masha! But it's a simple fix really. We are quite a strong team me and Vi
Has your wedding been held yet? If yes, can you share some pictures and videos of your wedding, if not can you share some details of your plan.
Виола:Now, due to the current situation in the world, we are separated by oceans and the borders between us are closed. Our plans are to overcome these limits…
Alan: The game wedding for sure! There's a Video. As for real life she might be lucky enough one day!
In the future life, what new plans do you and your significant other have? Are these going to change some of your in-game goals?
Виола:Our relationship does not depend on the game, so it is difficult to say whether further goals in the game will change. As for plans in real life, I can't answer without him. One thing I can say for sure, in our plans to get a husky.
Alan: I want a husky so bad! Vi and me might live in Australia in future together
So finally, is there anything you want to say to other players?
Виола:People come to the game for various reasons… Someone out of boredom, someone to take a break from a hard day, someone to feel important … Any game is built on communication. Without people and communication, the game becomes just a set of pixels and quickly gets bored. Although this is a game about war, here you can not only fight, but also make friends and love. We wanted to show it in our example. Be human always and everywhere
I think Alan will be able to supplement my incomplete answers and give his own later.
Alan: This game is awesome! Just make sure you're comparing yourself to people in the same spending bracket! Also make sure to look after your alliance! This game has all walks of life and some people might be having a hard time! I mean this game really helped me during the COVID lock-downs and I'm a really happy outgoing person but being trapped in my house for nearly two years was hard!