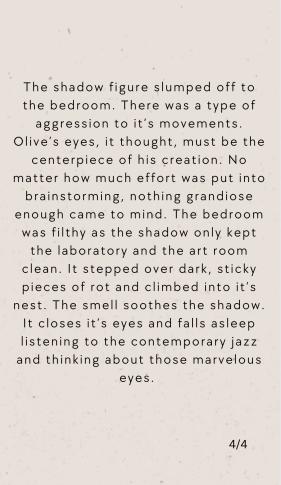 ---
Deep below the surface of the colony, and quite a few miles away, belonged a dark lab. The lab consisted of 4 rooms. The main laboratory, the holding chamber, a bedroom, and the art exhibit. No one in the colony would know it, but there was a grotesque artist preparing work. He was getting ready for his mystery exhibition. Today, contemporary Jazz floods the halls of the laboratory. Today, new pieces were being imagined. After seeing Olive's eyes, budding ideas were forming in the shadows mind.
Micheal Henn's body was of no use any more, so it sat slumped in the holding chamber. There were all types of chanterelle mushrooms growing off of the body, and a sharp claw emerges to clip some off. It's very curious these mushrooms are growing on a body of all this but the pesky little fungi have become so entangled with Mr. Henn's decaying body that perhaps there was still more use for him after all. It was to early to tell.
The shadow figure slumped off to the bedroom. There was a type of aggression to it's movements. Olive's eyes, it thought, must be the centerpiece of his creation. No matter how much effort was put into brainstorming, nothing grandiose enough came to mind. The bedroom was filthy as the shadow only kept the laboratory and the art room clean. It stepped over dark, sticky pieces of rot and climbed into it's nest. The smell soothes the shadow. It closes it's eyes and falls asleep listening to the contemporary jazz and thinking about those marvelous eyes.